This is a time of year that is stressful for all women: bathing suit season. For me and probably many of you readers, the issue isn't one of confidence, but of finding the right suit! I'm proud of my curves, but I need something that does them justice and doesn't make me look like I live in a retirement home. This week I tried to find suits that offer support, sex appeal, and of course, style.
Z. Cavaricci Couture - Snake Print One Piece Halter Swimsuit, on sale for $49.98
I love this suit. It's just the right amount of sexy, without leaving you feeling overexposed. And with some colorful jewelry or a cute hat...seriously hot.
Punaluu Plus Size Pleated Swimsuit by Beach Belle® -$49.99
Normally I'm not a fan of just plain black suits, but the fit on this one is unbeatable. Plus, the underwire will keep you feeling secure and supported, and will help give you the pinup girl shape we all want :)
Beach Blanket Bingo One Piece in Red, $89.99
This suit is another one that screams "pinup girl" to me (and who doesn't want to scream that?)!
The neckline is ultra-flattering, the shirred bodice will slim you, and the leg coverage is conservative but not matronly.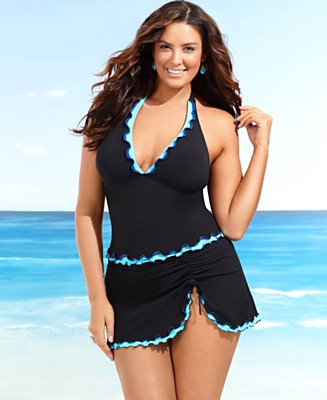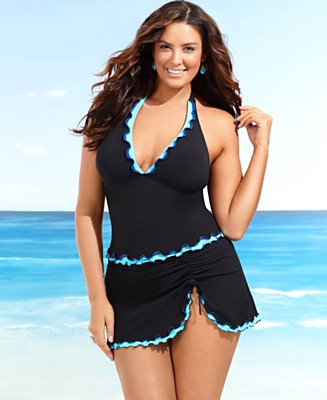 I am normally not a fan of tankinis, but I think this one is adorable. The ruffles are fun, the slit in the skirt keeps it from being mom-like, and the plunging neckline is gorgeous.
Jessica London Plus Size One Piece With Chain Strap, $39.99
Chain details have been everywhere this year, and it only makes sense that they'd show up in swimwear. I love the simplicity of this suit, and that the chain strap gives it just a little bit of sophistication.
Shape fx One Piece Twist Front Bandeau Control Swimsuit, $69.00-$79.00
I personally always find the most swimsuit success with strapless one pieces. The bodices tend to smooth everything out, while being bare on top keeps me from feeling too covered up (plus, no tan lines)! I think the zebra print is really cute and screams anything but "plus size."