The leaves are turning, the wind is blowing, and it's getting
just
chilly enough to wear a jacket. Want something different than a trench coat or other jacket? You're in luck. Capes are HUGE this season and are great transitional pieces from fall to winter. The great part about these babies is that they're SUPER comfortable because they're so flowy. To maintain the right proportion for your body, make sure you're keeping the bottom half of your ensemble fitted so the world can see your beautiful shape. Don't know where to begin on your cape hunt? Here are some ideas:
Gray Plaid Button Cape,
$88.50
This grey plaid looks a bit Burberry, a bit European, and a lot chic. Paired with some skinny jeans and boots you will look amazing and feel nice and toasty :)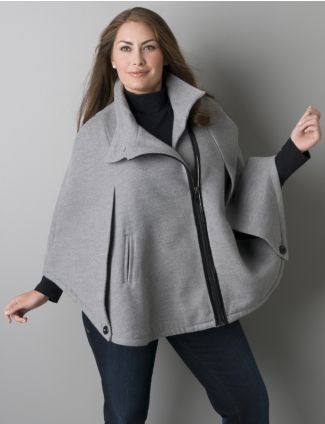 Asymmetric zipper cape,
$90.96
Another gray cape, but with a very different feel. I love these clean lines and the sleek effect that they give!
Want a pop of color? This one's for you. The burnt orange seems so perfect for fall! Just make sure you wear this one paired with a ton of swag.
Leatherette Trim Fleece Poncho, $42.80
Badass AND budget-friendly. What more could a girl ask for?
This one is a bit pricier than the rest, but look how luxe it looks! The color combination is also ideal because it will go with black and brown shoes and clothing. (Check out ASOS Curve for tons of high-fashion curve-friendly looks)
The coolest thing about capes is that they are very forgiving. Depending on your size, you may be able to walk into ANY store, plus size or otherwise, and fine a gorgeous cape that fits your style and personality. Go out and find one that you feel fabulous in, and think of me while you're looking stylish and drinking cocoa :)
Got a fashion emergency? Contact us!
As always, happy shopping!
-Samantha