Now that we've gotten past the deadly summer temperatures and have simmered down to merely an oppressive heat, there's no denying that fall is around the corner. I love the breezy crispness of autumn, but I can't deny that it makes me a little emotional to put away my cute sundresses and tank tops only to replace them with coats and snow boots.
Summer clothes are the cutest, right? Bright colors, flowy fabrics, strappy sandals...I'm already nostalgic for summer and it's still August.
To help me (and you, of course) ease the pain of summer's departure, I've compiled some great pieces to help maximize your summer wardrobe to transition it into the colder months, and to maintain that carefree summer attitude as long as possible!
1) Vests
Most curvy girls know structured jackets are our friends. They help to define the waist, and flatter everything else. But until it's pretty chilly, I can't bear to put on a full blazer. I now bring you to my newest obsession: vests. They add the structure of a blazer without the bulk.
Grey Slub Ruffle Open Vest,
$29.98
Normally I'm weary of loosey-goosey items, but this one is just the right balance of frill and structure. I love how girly it is. You could easily wear this with a plain tee shirt or thin sweater in any season...even over a dress!
2) Scarves
Scarves are complicated. There are nubby, woolly, itchy ones that you have to use to simply stay alive in the middle of winter, and then there are pretty, drapey, patterny (you get the picture) ones. I'm a fan of the latter. They can alter an outfit in two seconds and are definitely my go-to accessory in transitional seasons. I love leopard print so I love this one:
Glitzy Metallic Leopard Scarf, $9.50
Kinda neutral but still a pattern, so it's a perfect wardrobe staple. Also, Charlotte Russe is offering a 2/$15 deal on certain accessories so there's really no excuse not to pick one (or two) up.
3) Cardigans
Cardigans are possibly my favorite item of clothing. Like, ever. Put them over a dress, a tank top, a button down, or even wear them over your pjs--cardigans make you look like you thought really long and hard about your outfit while also keeping you toasty.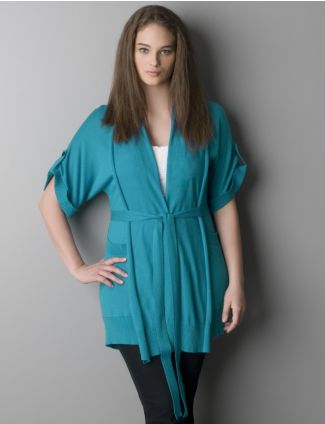 Drape front cardigan by DKNY JEANS, $64.99
Let us, for a moment, ignore the fact that this model's hair is a hot mess. I love the color, the details on the sleeves, the length of the sleeves, and the fact that it's already belted without me having to add one. I also like the length so that you can wear it over leggings without showing too much of the crotchal region. It's a bit pricey, but pieces like this go a long way.
4) Boots
Fact #1: No outfit is complete without the right shoe. Fact #2: Boots make everything better. Conclusion: you need some boots. I personally love boots in a cognac color, so that they go with anything. I also prefer boots with a little wedge/heel so that I feel somewhat dressed up, but not so I'm teetering on heels. Unfortunately, boots are hard for us full-figured ladies because the shaft of the boots is often (kind of absurdly) tiny. You have to look carefully for great boots, but once you find them, you'll be so happy you got 'em.
Great color, great detail, great heel height...and the word "comfort" in the name. Sold.
5) Leggings
I've had a tough relationship with leggings. I can't stand when people wear them with pants and short shirts. Some details of people's crotches should remain private, and leggings can reveal a bit more of yourself than you may be willing to share with the general public. That being said, I think they are great with tunics, dresses, and any other shirt/dress hybrid. As long as your summer dresses don't have crazy vibrant prints, you can most definitely wear them in the fall and even winter with the right legwear. I wear my summer dresses all of the time with leggings...tucked into my cognac boots, of course :)
Basic Knit Leggings, $6.50
Pretty sure the price speaks for itself. These are a wardrobe staple, and Forever 21+ has a huge selection of colors and textures, so stock up!
Are there any style questions you need answered? Need help finding the right outfit for a certain event? Did you see a celebrity outfit that you love and want to know how to recreate it? Let us know!
As always, happy shopping!
-Samantha